guesterly® is a who's who guide to your event! A guesterly® celebrates everyone, introduces them to each other, and gets the conversation flowing. Small in size, just right for your pocket at 4×5 inches it can go anywhere with you! Perfect for events, conferences, weddings, reunions, or just about any gathering, guesterly® keeps your guests connected in such a unique way. guesterly can be your wedding directory, wedding guest guide, wedding program, and schedule of events all in one!
Easily send your guest a link and they fill out their own profile which automatically generates into your guesterly® for you to wow the guests at your next event! A guesterly® booklet is available in print or digital formats.
Let's Get Started
1. First, you will need to go to www.guesterly.com and create an account.
2. Then you can choose your font for your guesterly, and color scheme.
3. From there you choose the questions you would like your guests to answer.
4. Lastly, you send your guests an email through the website and they follow a link from the email and fill out their information to be included in your guesterly!
Once the responses start pouring in you can arrange them however you would like! You can add program pages, welcome pages, and much more! Simple, easy, and quick to create!
Services / Products
4.25 x 5.5 booklet directory with all of the guests in your wedding party! Including a couple page and much more!
Locations
We ship to United States, and the following countries: Australia, New Zealand, Canada, France, Germany, Ireland, Japan, Netherlands, Puerto Rico, Saint Vincent and the Grenadines, United Kingdom, Bermuda, America Samoa, U.S. Virgin Islands
Testimonial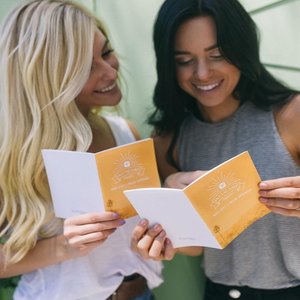 Making our guesterly guide was such a great decision! Since 99% of our guests came in from out of town, guesterly was a lifesaver in communicating all details in one, quick-reference place, including our schedule of events and logistics (parking, transportation, etc.).

Plus, it was amazingly useful to connect our guests in advance: we had friends in San Francisco—who hadn't met before—who coordinated a ride to the airport together!

Everyone knows that the best part of your wedding is being surrounded by all of your favorite people. But even better? Watching them all meet and have a blast with each other!

As much as I loved the way our guesterly guide helped our guests hit it off, I also loved that they thought I was a magician for creating it. After the weekend, a family friend sent an email saying "WOW! You thought of absolutely every detail. We particularly loved the guest guides: how organized and thoughtful of you!"

If only they knew that it barely took any time! And for the cost of a cheese plate? Yes, please! If you're debating whether you should make a guesterly, seriously, don't hesitate. It's a truly unique touch that all but guarantees your wedding will be more fun and makes you look like a rockstar.

-Leslie Zaikis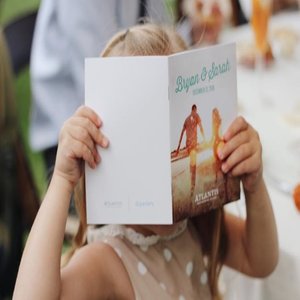 I just wanted to tell you that the guesterlys were a HUGE hit at the wedding! So many people made it a point to tell us how much they loved them.

- Kelly and Albert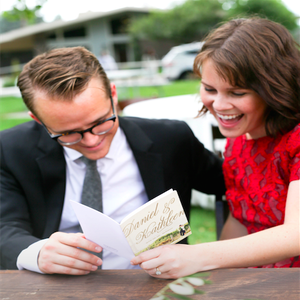 The guesterly books were a huge hit! And it's such a useful keepsake of our wedding.

- Michelle and Geoff